your current location:

Performance advantages: complete functions, good engraving and cutting effects, high precision, cost-effective processing tool for high-quality processing
Material applications: Acrylic, various plastic materials, electronic insulation materials, bakelite, copper-aluminum panels, aluminum-plastic panels, etc.
Industry applications: acrylic products, advertising production, tooling and fixtures, engineering plastics, aluminum processing industries, etc.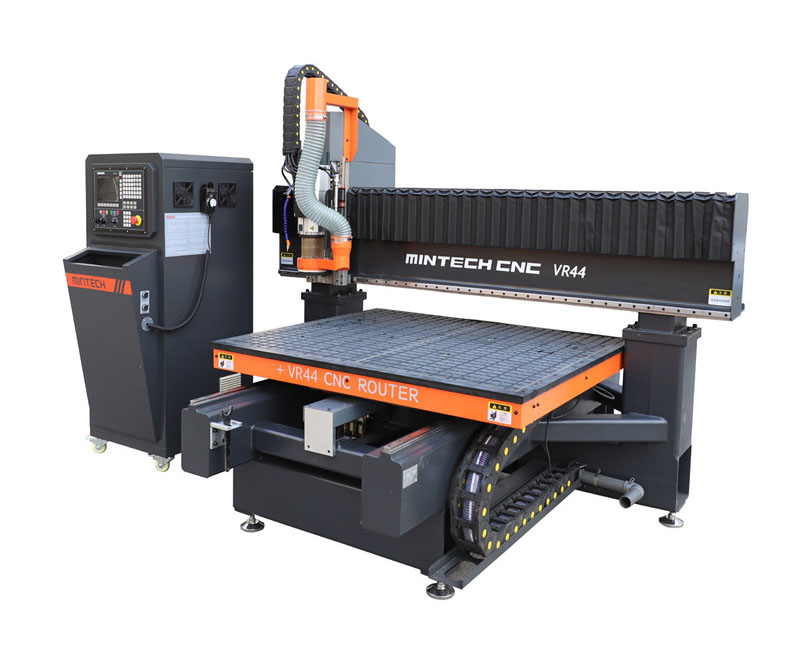 Model: V6
Power supply: AC380V / 50HZ / 3PH
Working size: 1220mm * 1220mm * 100mm
Z-axis Clearance: 200mm
Z-axis Traverse: 450mm
Max processing speed: 20m/min
Rapid Traverse: 30m/min
Repeatability: + /-0.05mm
Trasmission: X, Y, Z axis are driven by high-precision ball screws.

Spindle motor: 9KW ISO30 Motorized spindle
spindle speed: 4000-24000RPM
Splint specifications: SK16
Cooling : use maintenance-free independent fan cooling, reduce maintenance
spindle noise: idling less than 65 decibels

The work surface is made of phenolic composite material board to help ensure the flatness of the processing table.
The high-performance grid-shaped vacuum table is used.
Any part of the work table can quickly adsorb the workpiece.
The vacuum pipeline adopts double filtration to avoid the failure of the vacuum pump sucking chips.
Adopt 4-tool row type tool library
The tool change speed is fast, the structure is simple, the cleaning is convenient, and the tool change failure is avoided.
The tool library is installed on the table, which effectively reduces the movement of the table during the tool change process, reduces unnecessary movement and prolongs the life of the machine.

NO

Desc.

 

Parameter

Remark

1

Working area

X axial processing scope

1220mm

Y axial processing scope

1220mm

Z axial processing scope

200mm

2

Machine parameter index

X, Y, Z axial motion positioning accuracy

0.05mm/300mm

X, Y, Z repeated positioning accuracy

0.05mm

Maximum displacement speed

30 m/min

Maximum processing speed

20 m/min

Total weight

2000KG

Power supply

AC380V/50HZ/3PH

3

Working table

Aluminum table

Vacuum table

Worktable load

300KG

4

Software

Weihong Professional numerical control System

NK300CX

5

Tool changer- ATC

Disc tool library

8 tools

6

Drive power ( servo motor)

X axial drive motor

Delta

Y axial drive motor

Delta

Z axial drive motor

Delta

Working Voltage

AC380/3PH

7

Electric spindle (frequency conversion)

Spindle

oil cooling

Spindle speed

4000—24000RPM

Spindle power

7.5KW

Spindle taper

BT30

Spindle dynamic balance level

G2.5

Frequency converter

Ivnt

8

Guide rail

X axle guide rail

Square guide rail (25mm)

Y axle guide rail

Square guide rail (25mm)

Z axle guide rail

Square guide rail (25mm)

9

Drive

X shaft drive

Ball screw

Y shaft drive

Ball screw

Z shaft drive

Ball screw