your current location:

Performance advantages: completely functions, good engraving and cutting effects, high precision, cost-effective processing tool for high-quality processing
Material applications: Acrylic, various plastic materials, electronic insulation materials, bakelite, copper-aluminum panels, aluminum-plastic panels, etc.
Industry applications: acrylic products, advertising production, tooling and fixtures, engineering plastics, aluminum processing industries, etc.

Model: V3
Power supply: AC380V / 50HZ / 3PH
Working size: 600mm * 600mm * 1200mm
Z-axis Clearance: 195mm
Z-axis Traverse: 280mm
Max processing speed: 10m/min (tool coordination is required for maximum cutting)
Rapid Traverse: 15m/min
Repeatability: + /-0.01mm
Trasmission: X, Y, Z axis are driven by high-precision ball screws.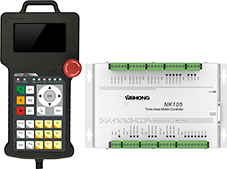 Adopt Weihong to control NK105 CNC system.
Hand-wheel operation box

Spindle motor: 3KW
Spindle speed: 4000-24000RPM
Splint specifications: ER25
Cooling : water cooling

The work surface adopts cast aluminum work surface to ensure the flatness of the processing surface and the mechanical rigidity of the T-slot surface, which facilitates the fixing of different workpieces, and ensures that heavy workpieces will not loosen during processing.

NO

Desc.

 

parameter

Remark

1

Working area

X axial processing scope

600mm

Y axial processing scope

1200mm

Z axial processing scope

100mm

2

Machine parameter index

X, Y, Z axial motion positioning accuracy

0.05mm/300mm

X, Y, Z repeat positioning accuracy

0.05mm

Maximum displacement speed

30m/min

Maximum processing speed

20m/min

Total weight

About 1500KG

machine tool operating voltage

AC380V/50HZ/3PH

3

Working table

Aluminum table

T-slot

Worktable load

200KG

Vacuum adsorption table
Optional

4

Software

Weihong Professional numerical control System

Weihong handle system

5

Tool changer

No too library

Manual tool change

6

Drive power (AC servo)

X axial drive motor

Servo motor

Delta

Y axial drive motor

Servo motor

Delta

Z axial drive motor

Servo motor

Delta

Voltage

AC380/3PH

7

Spindle motor (frequency conversion)

Cooling

Water cooling

Spindle speed

40000RPM

Spindle power

4KW (optional other spindles)

Manual

change

Spindle taper

ER25

Spindle dynamic balance level

G2.5

Frequency converter

Ivnt

8

guide rail

X axle guide rail

Square guide rail (20mm)

TBI

Y axile guide rail

Square guide rail (20mm)

TBI

Z axle guide rail

Square guide rail (20mm)

TBI

9

Drive

X axle drive

Helical rack

Y axle drive

Helical rack

Z axle drive

Ball screw

TBI

previous product: there is none left