your current location:
Midsummer night's dream, we will guard it
release time:2021-07-21 The number of clicks:305
【Case summary】:Acrylic creative night light, light up your every night
  Acrylic creative night light, light up your every night
  When night falls,
  The lights are on,
  Does it also evoke those good memories.
  Whenever you get dark at night,
  Have you ever thought of adding a night light to your home?
  Not as dazzling as ordinary incandescent lamps,
  The warm light makes people feel at ease in the dark night.
  A piece of acrylic board can also make a healing night light
  With a small night light, midsummer night's dreams are sweeter
  Let us guard your night
  Don't like prosperous things
  Warm companionship at night,
  Because it's really beautiful, it's automatically projected,
  A particularly pleasing gift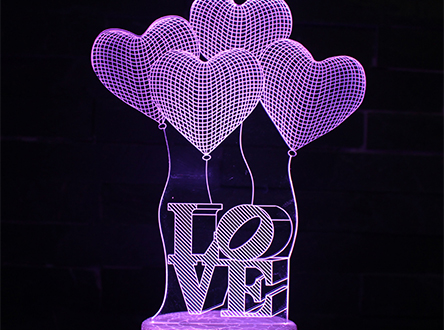 Small and exquisite
  Open the lampshade
  Create some for her beloved
  Romantic atmosphere
  Soft lighting,
  Fascinating,
  Gentle and not glaring,
  It's sweet and soft girl
  A must-have for the bedroom, gentle and not dazzling, but sweet
  Soft lighting
  Let the room suffocate
  The warmth of the night
  Soft night,
  The guarded dream,
  Acrylic creative night light,
  It is worth being owned by you!
  product description
  Mingte screw laser cutting machine MC-2500
  Performance characteristics: steel pipe welding structure, aluminum profile precision milling guide surface, servo drive, screw drive, high precision and high quality cutting
  Adapt to the board: acrylic, various plastic materials, electronic insulation materials, wood boards and other non-metallic boards
  Industry applications: Acrylic products, architectural decoration, craft gifts, electronic films, fabrics and leather materials, etc.
  For specific details, please call our service hotline: 138-2577-9334. Dongguan Mintech Electronics Co., Ltd. (brand: Mingte) is a high-tech enterprise focusing on R&D, production and sales. The main products are laser cutting machines, acrylic cutting machines and so on. Welcome to consult.