your current location:

Performance advantages: heavy-duty frame structure, three-axis grinding rack rotation, high-speed, high-precision, and heavy-load processing
Material applications: Acrylic, various plastic materials, electronic insulation materials, bakelite, copper-aluminum panels, aluminum-plastic panels, etc.
Industry applications: Acrylic products, architectural decoration, tooling and fixtures, engineering plastics, vehicle interiors, aluminum processing industries, etc.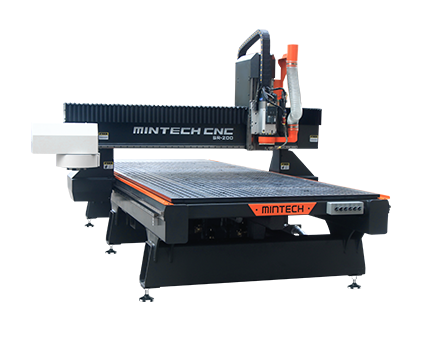 Model: SR200
Power supply: AC220V / 50HZ / 3PH
Working size: 1500mm *3000mm * 100mm
Z-axis Clearance: 200mm
Z-axis Traverse: 450mm
Max processing speed: 20m/min
Rapid Traverse: 30m/min
Repeatability : + /-0.05mm
Trasmission: X, Y grinding grade helical rack, Z axis adopts high-precision ball screw drive.

Control System:

1. The control system adopts Weihong NK300 system. (Syntec or Siemens can be selected)
2. Tool compensation function. Support tool radius compensation and length compensation through manual and automatic two modes of measurement, easy-to-understand human-computer interaction interface, allowing users to reduce the conversion of tool compensation values. For users who use tool length compensation, many unnecessary conversions are avoided.
Cutting spindle:

1. Spindle motor: Italy 9.6KW ISO30
2. Spindle speed: 4000-24000RPM
3. Splint specification: SK16
4. Cooling : use maintenance-free independent fan cooling to reduce maintenance
5. Spindle noise: idling less than 65 decibels
Working table:

1. The working table is made of phenolic composite material to ensure the flatness of the working table.
2. Adopt high efficiency vacuum table,any part of the worktable can quickly absorb the work piece.
3. Vacuum pipe adopts double filtration to avoid failure due to vacuum pump inhalation of chips.

Straight-line tool library:

1. Adopts straight-line tool library of 5 tools
2. Tool change speed block with protection function to prevent dust and misoperation, avoid tool change failure
3. Tool library is installed on the cross beam, effectively reducing the movement of the work surface during the tool change process, Reduce unnecessary movement and extend the life of the machine.

Industry application:


NO

content

 

Specification

1

Processing range

X axis processing range

1500mm

Y axis processing range

3000mm

Z axis processing range

100mm

2

Machine parameter index

X, Y, Z axis motion positioning accuracy

0.05mm/300mm

X, Y, Z repeat positioning accuracy

0.05mm

Maximum moving speed

30m/min

Maximum processing speed

20m/min

Total weight

About 3500KG

Power supply

AC380V/50HZ/3PH

3

Workbench

Phenolic Panel Workbench

Vacuum adsorption table

Workbench load

1000KG

4

CNC system

Weihong Professional CNC System

NK300 (new generation, Siemens can be used)

5

Tool change system

Straight-line

5 tool positions (disc tool library can be used)

6

Drive power (AC servo)

X axis drive motor

Yaskawa, Japan (Delta, New Generation Bus, Siemens syntec can be selected)

Y axis drive motor

Yaskawa, Japan (Delta, New Generation Bus, Siemens syntec can be selected)

Z axis drive motor

Yaskawa, Japan (Delta, New Generation Bus, Siemens syntec can be selected)

Voltage

AC380/3PH

7

Electric spindle (frequency conversion)

Spindle

Italian HSD air-cooled (Mintech specific system or Italian Hiteco can be selected)

Spindle speed

4000—24000RPM

Spindle power

9 KW

Spindle taper

ISO30

Spindle dynamic balance level

G2.5

Frequency converter

VFD

8

guide

X axis guide

Square rail (25mm)

Y axis guide

Square rail (25mm)

Z axis guide

Square rail (25mm)

9

transmission

X axis transmission

Grinding grade helical rack

Y axis transmission

Grinding grade helical rack

Z axis transmission

Ball screw rod