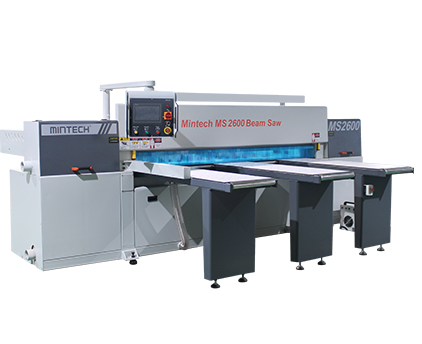 Performance advantages: fast cutting speed, high cutting precision, simple operation, high safety factor, and good dust collection effect.
Material applications: acrylic, wood, various plastic materials, electronic insulation materials, bakelite, aluminum-plastic panels, etc.
Industry application: acrylic processing, light guide plate production, woodworking furniture, PCB circuit board, engineering plastics industry, etc.

Model: MS3200
Machine size: 5600×5800×1700mm
Working size: 3200×3200mm
Cutting thickness: ≦80mm
Main saw blade: outer diameter Ø250-400mm, shaft diameter: 30mm
Slot saw blade: outer diameter 200mm, shaft Diameter: 30mm
Cutting accuracy: ±0.1mm (excluding material deformation)
Power of the whole machine: 21KW
Total weight: 5500KG
Power supply : 380V 60HZ 40A
Air supply requirement: 5-6Kg/cm²;

Feeding platform: It is composed of two parts, one is the roller bracket structure, the other is the air-bearing table structure, the air-bearing table structure mainly takes into account the stability of the feeding when cutting small materials, is equipped with nine grippers, servo numerical control positioning, precision rack drive, servo drive; The design of this platform effectively guarantees the accuracy of pushing materials, and does not deviate to prevent the sheet from scratching.

Material pressing mechanism: double pressing beam mechanism, double pressing beam mechanism, to prevent the sliding of the plate, ensure the cutting precision and cutting effect of small and thin materials, and avoid the phenomenon of edge collapse when cutting ultra-thin materials (especially for optical grade Light guide plate) 00mm plate is equipped with a unique material support mechanism, the narrowest and reliable material width is 50mm, to avoid the deviation of small plates during the feeding process.

Saw car structure: assembled main saw and slot saw, helical rack and linear guide drive, servo drive; main saw slot saw positive and negative sawing, to avoid plate edge burst and damage to the protective film, to ensure the quality of cutting; rack; And linear guide rail drive to ensure the straightness of cutting.

Water mist cooling: cooling the saw blade and cutting surface when cutting hard or thick materials.


Front countertop: air-floating platform, reducing friction between feeding and discharging, easier loading and unloading, and preventing scratches on the plate.

Control system: Mitsubishi PLC control, Delta touch screen human-machine interface; simple operation, easy to use, stable performance

Safety protection: air pressure alarm, stop working when the air pressure is insufficient; the operating space is equipped with an infrared protection line, when the operator enters the protection area while working, the machine will stop working; the main saw and slot saw are fully enclosed, and the machine will stop working.

Dust collection device: under the saw car is a crawler dust collection slot. There are dust suction ports on the left and right ends of the machine, and there are also dust suction ports above the pressure beam. The multi-directional dust collection design can achieve more than 90% of the dust treatment effect.

Sawing capacity

Cutting length

3300mm

Sawing thickness

Up to 80mm

Sawing width

3300mm

Main saw blade

Main saw blade diameter

250~400mm

Saw shaft diameter

30mm

Main saw shaft speed

0~4000 rpm adjustable

Slot saw blade

Main saw blade diameter

200 mm

Saw shaft diameter

30mm

Vice saw blade speed

6000 rpm

Saw seat

Forward stroke speed

0~100 m/min adjustable

Backward speed

110 m / min

motor

Main saw blade drive motor

11KW(AC Servo motor)

Slot saw motor

1.5KW

Saw base drive motor

2KW

High pressure blower motor

2.2KW*2

Automatic feeding system

1.5 KW (AC Servo motor)

other

Small feed

Standard configuration, the narrowest material width is 50mm

unique design

Feeding mechanism

The air-bearing table is 600mm wide, special for placing small materials

Roller bracket, large slab cutting material

Pressure beam

Double-pressure beam structure solves the problem of easy edge chipping when cutting thin materials

Front-end platform

Full table air float beads

Automatic feeding speed

80 m / min

Use air pressure

5-6 kg/c㎡

Height of workbench above ground

940 mm

Work folder (number of work folder)

9

computer program

touch screen

Net weight/Gross Total

5500KG

Mechanical size (length*width*height)

5600*5800*1700

Configuration

PLC

Mitsubishi Japan

Contactor

Schneider

touch screen

Taiwan Delta

Feeding servo

Taiwan Delta

Gas line

Adek
next product: there is none left