your current location:

Performance advantages: steel pipe welded structure, aluminum profile precision milling guide surface, servo drive, screw drive, high precision and high quality cutting
Material applications: acrylic, various plastic materials, electronic insulation materials, wood boards and other non-metallic boards
Industry applications: Acrylic products, architectural decoration, craft gifts, electronic films, fabrics and leather materials, etc.

Model: MV2500
Power supply: AC220V / 50HZ / 2PH
Working size: 1250mm * 2500mm
Max processing speed: 20m/min
Repeat positioning accuracy: + /-0.05mm/300mm
Laser tube: Adopts imported radio frequency lasers such as Rofin
Driving mode: X, Y , Z axis adopts high-precision ball screw drive.

Laser tube:
1. Adopting German Rofin radio frequency laser
2. Sealed-off CO₂ laser, combined with two-axis or three-axis flying optical path technology, opened up a new application field for non-metallic material processing.
3. The Rofin series laser light source has excellent beam quality. Even if it is a very large-format processing or a long focal length, the size of the laser spot reaching the surface of the material is still very small (= high energy density). This is the basis for precision and rapid processing. StarShape has a variety of configuration possibilities. According to the actual application, the processing format and the related spot size can be accurately adjusted through the control software. Therefore, the optimal production speed can be achieved.

Flying light path system:
1. Constant light path design to ensure the same laser energy at each focus point on the large-format work surface to avoid uneven light intensity.

2. The light path dust-proof device prevents the flying light path from contacting the outside air, as far as possible to ensure the cleanliness of the laser lens, and provide light guide efficiency

3. Optical lens cooling method: water cooling to prevent the heating of the lens from affecting the light guide and the service life of the lens

Laser cooling system:
Adopt industrial-grade water-cooling controller, intelligent constant temperature control, water temperature can be controlled at ±0.5°; configuration of over-temperature and water pressure alarm

Cutting head:
Independent research and development, fast switching of lenses with different focal lengths, infrared positioning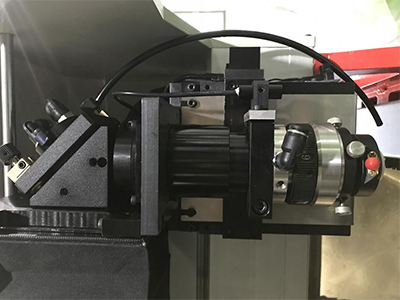 Industry application:

Content

Remark

Laser power

Rofin RF laser

Optional 180W, 250W, 350W, 550W

Dimensions

4000×2000×1300mm

Working size

X:1300,Y:2500mm

MV3000 type 1500 × 3000mm

working table

Triangular aluminum support

Alignment device

infrared

the fastest speed

20m/min

Fastest

Acrylic maximum cutting thickness

40mm

Perfect cut

X/Y axis positioning accuracy

±0.05

mm/m(mm/m)

X/Y axis repeat positioning accuracy

±0.05

mm

Cutting head

Fast switching between long focus and short focus

Independent research and development

Focus adjustment

electric

Mechanical transmission system

X/Y axis adopts ball screw

Taiwan imports

X/Y/Z adopts TBI guide rail

Taiwan imports

Dedicated cooling system

Temperature control accuracy is up to ±0.5℃, multiple alarm protection functions:

Special domain

Light path system

Flying optical path, sealed and dust-proof

Optical lens cooling system

Exhaust system

Smart partition start exhaust

Sport control

Ruida CO² CNC System

Support software

CAD, Coredraw, etc.

Server Driver

MITSUBISHI

Mitsubishi Japan

HMI

High-resolution capacitive touch screen

FLEXEM

Fan control

Touch screen one-touch control

Autonomous configuration
previous product: there is none left
next product: there is none left